Search keywords:
product name, product type, model number,
test method, manufacturer, technique, application
GB/T 251 Grey Scale for Assessing StainingBACK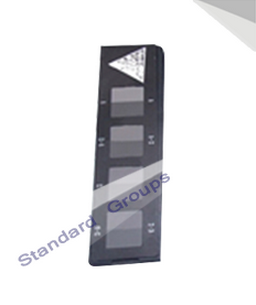 Testing Standards:
GB/T 251
Applications:
Color fastness to Washing, Sublimating, Crocking, etc. Grey Scale for Staining is used to visually assess staining due to colorfastness tests.

Product Information :
GB/T 251 Grey Scale for assessing staining.
The grey scale is divided into five levels includes nine grades according to distinguishable chromatic aberration between each group of the gray scale.
Grey scale comes with a cover box with three rectangular holes, the first one for the evaluation of multi-fiber staining, the second for the evaluation of crocking staining, the third for the evaluation of general staining.