Search keywords:
product name, product type, model number,
test method, manufacturer, technique, application
SDC#2836, LFS Mounting Card (OBA-free) (13x4.5cm)BACK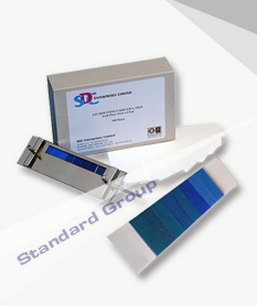 Testing Standards:
ISO 105 B01, ISO 105 B02, ISO 105 B03, ISO 105 B04, ISO 105 B05, M&S C9, M&S C9A
Applications:
Color fastness to artificial light.

Product Information :
SDC#2836, LFS Mounting Card (OBA-free), size:13x4.5cm, pack of 200 pieces.
The OBA-Free Light Fastness Mounting Card is designed to complement our range of SDC Blue Wool Light Fastness Standards.
The cards are totally free from optical brightener, to ensure that all grading of the blue wool standards is unaffected by possible the effects of UV in the backing card.