Search keywords:
product name, product type, model number,
test method, manufacturer, technique, application
SDC#2837, LFS Mounting Card (OBA-free) (14x7cm)BACK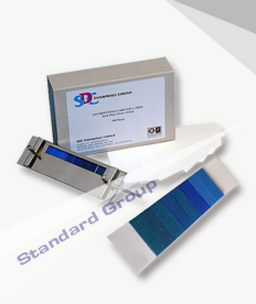 Testing Standards:
ISO 105 B01, ISO 105 B02, ISO 105 B03, ISO 105 B04, ISO 105 B05, M&S C9, M&S C9A
Applications:
Color fastness to artificial light.
Product Information :
SDC#2837, LFS Mounting Card (OBA-free), size:14x7cm, pack of 200 pieces.
It's used for mounting the Blue Wool pieces and test specimens. Use of OBA/FBA free cards is recommend as OBA/FBA's are not stable under exposure to the light and any visual change in the mounting card can influence the grading process. It could be used in several specified standards.