Search keywords:
product name, product type, model number,
test method, manufacturer, technique, application
Testfabrics #423, Bleached and Mercerixed Cotton TwillBACK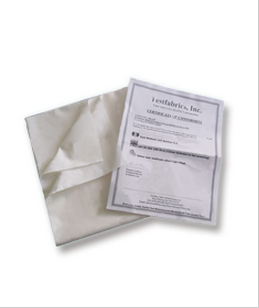 Testing Standards:
AATCC 132
Applications:
Colorfastness to drycleaning.

Product Information :
Testfabrics #423, Bleached and Mercerixed Cotton Twill for AATCC 132 Dry Cleaning Test, pack of 5 meters.
Used for the test of colorfastness to dry cleaning, sew the two piece of dyeing cotton twill along the three sides to make a bag with inner size of 100 mm x 100 mm. Put 12 pieces of steel disc and composition that made of samples and the standard multifiber wool fabric together into the bag, sewing the last side of the bag, and put it into the stainless steel container. Conduct the test according to the steps.