Search keywords:
product name, product type, model number,
test method, manufacturer, technique, application
SDC IEC Non-Phosphate Detergent (A*) Type 9BACK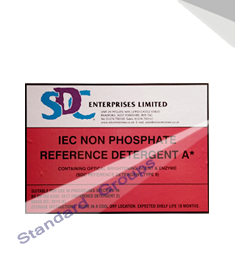 Testing Standards:
ISO 6330
Applications:
Colour Fastness, Dimensional Stability, Physical, Chemical.
Product Information :
This product is manufactured for use in the ISO 6330 tests. The powder containing fluorescent brightening agent and the formulation is tightly controlled to ensure it meets the specification of the ISO standard. This non-phosphate detergent powder is a completely homogeneous product, which ensures that batch to batch continuity. This Enzyme containing detergent has a shelf life of 18 months from manufacture or 12 months from opening. Sack of 15kg.