The Best Ways to Utilize Cone Calorimeter
2022/08/12
The
Cone Calorimeter
is a new generation of combustion performance measurement instrument for polymer materials based on the principle of oxygen consumption. The combustibility parameters of combustible materials in fire obtained by the Cone Calorimeter include various parameters such as heat release rate (HRR), total heat release (THR), effective heat of combustion (EHC), ignition time (TTI), smoke and toxicity parameters and mass change parameter (MLR). The Cone Calorimeter method has been applied in many fields of research because of its advantages of low influence of external factors and good correlation with the results of large experiments.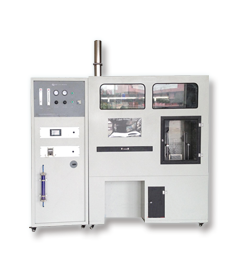 The Best Ways to Utilize Cone Calorimeter:
1.Preparation of specimen The actual radiation area of the specimen is 88.4 cm2 when the outer frame of the specimen box is used; when the outer frame of the specimen box is not used...
2. Radiation cone preheat Turn on the radiation cone power supply on the equipment, and start the radiation cone preheat. Preheating to close the heat insulation gate, and put...
3. Test conditions set Wait for the temperature of the heating cone and the test conditions close to the time, click the software to start the test button. In the test...
4. Operation during the test First, without placing the specimen, click on the software to start the baseline acquisition. Wait at least one hour for this step.
When measuring pay attention to the thickness of the material: generally choose 3mm or 6mm, if you can do 6mm plate, it is recommended to do 6mm. this also has a relationship with the substrate you study, the general density of plastic products 3-6mm, light foam products are generally best between 30mm-50mm, test data and sample thickness and thermal radiation intensity are related, sample thickness to a certain Chengdu on HRR The peak value should not be significant, but it will definitely have an effect on the burning time and THR.
Standard International Group (HK) has been engaged in exporting
Cone Calorimeter
for many years and has been recognized by our customers. For more information: High quality products, professional application and perfect after-sales service to meet customer requirements.
Previous: Paper testing instrument--Ink Abrasion Color Fastness Tester operation method
N e x t : the last page
---