AATCC TM16 E Color fastness tester exposure conditions
2022/09/01
Color fastness tester
is to determine the color fastness of leather, textiles, etc. by washing, rubbing and light, including washing fastness tester, light fastness tester, rubbing fastness tester, sweat stain tester, etc. Textile color fastness tester conforms to ASTM D1729, ISO 105×12, AATCC 8/165, ISO 105, BS 1006, AATCC 61/86/132/151/190, ISO 105-C01, GB/T 8427, AATCC 16, etc.
The AATCC TM16 test method provides general principles and procedures that are universally applied to determine the colorfastness of textile materials. This test is applicable to a wide range of textile materials as well as to colorants, finishes and treatments to be applied to textile materials.
One of the AATCC TM16 E test method exposure conditions are as follows.
1. irradiance control at 1.10W/m2/nm@420nm;
2. Window glass filter: continuous light at a black panel temperature of 63°C;
3. Chamber air temperature 43℃, relative humidity 30%;
4. The sample position is kept constant.
Light fastness tester main parameters.
01. Light source: 6500W water-cooled xenon lamp a;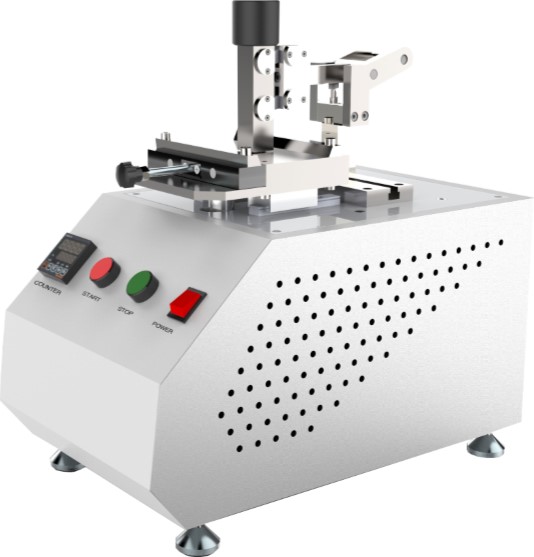 02. Spectral range: full-spectrum daylight;
03. Irradiance closed-loop control range: (307 ~ 1356) W / m2 (300 ~ 800nm) (Boro / Boro inside and outside the filter, other see samples);
04. Irradiance control accuracy: ±0.1W/m2 of the set value;
05. Irradiance intensity uniformity of sample surface: ≦±4%;
06. Irradiance control point: 340nm, 420nm, 300-400nm, 400-750nm, etc. can be selected;
07. Black plate temperature closed loop control range: BST: 40-120℃; BPT: 40-110℃;
08. The number of sample clips can be installed: 65, a total of 3 layers;
09. Total exposure area: 6500cm2.
AATCC TM16 E
Color fastness tester
is our independent research and development and production of domestic experimental equipment, for the rapid determination of dyes, textiles and other materials of sunlight resistance performance. Welcome to leave a message to get relevant quotation!
Previous: The electronic Fabric Tensile Tester operation function introduction
N e x t : Medical Face Mask Fire Resistance Tester operation precautions
---